New Jersey Slip and Fall Accident Lawyers
Slip and Fall Attorneys in Cherry Hill, NJ Pursue Maximum Compensation for Clients Injured on Negligent Property Owners Premises in Burlington County, Camden County, Cumberland County, and Throughout South Jersey
Slip and fall accidents often occur when a property owner neglects to keep their property in a safe condition. While slip and fall accidents are most commonly associated with premises liability lawsuits, they may also include accidents caused by faulty wiring or inadequate construction, which can result in fire and/or building collapses. If you or a loved one has experienced a slip and fall accident contact one of our very own New Jersey slip and fall accident lawyers and receive your no cost consultation today.
Slip and fall claims can become quite complicated depending on the nature of the injury or illness, when it was discovered, and the suffering the victim experiences. Even entering a building one time is enough to be injured, lose a loved one, and require compensation during the recovery period. Some people might need to approach a lawyer for help determining which facility caused their issues because not all accidents or incidents are obvious.
Do not assume these accidents are the result of bad luck. Those who own or manage the premises have a duty of care to uphold. Our New Jersey slip and fall accident lawyers at DiTomaso Law will aggressively represent injured individuals and their families in premises liability matters throughout Pennsylvania and New Jersey.
Were You or a Loved One Injured in an Accident and Now You Have Questions? We Can Help. Tell us What Happened.
Where Do Slip and Falls Occur?
Slip and fall accidents can happen anywhere, but some places pose a greater risk for accidental injuries. Locations where slip and fall accidents occur include indoor and outdoor areas, as well as public and private property. Some other common locations where slip and fall accidents occur include:
Outdoor Slip and Fall Locations
Arenas, Stadiums, and Outdoor Theaters – Venues that host events which draw large crowds also create an increased slip and fall risk. Crowded stairs and walkways at these sites can be hazardous, as can defective bleachers and slippery floors.
Construction Sites – According to the Occupational Safety & Health Administration (OSHA), 37% of all construction fatalities are caused by preventable falls.
Parking Lots – Slip and fall accidents typically happen in parking lots that are poorly lit or not properly maintained. Snow and ice that has not been cleared increase the risk of slip and fall accidents in parking lots. Poor visibility due to inadequate lighting also increases slip and fall risk.
Parks and Playgrounds – According to the Centers for Disease Control and Prevention (CDC), more than 200,000 children are treated in hospital emergency rooms each year for injuries resulting from playground slip and fall accidents.
Sidewalks – Cracked, buckled, bumpy, and pitted sidewalks present an uneven walking surface that poses a risk for slip and fall accidents. Snow and ice covered sidewalks can be extremely treacherous for pedestrians.
Indoor Slip and Fall Locations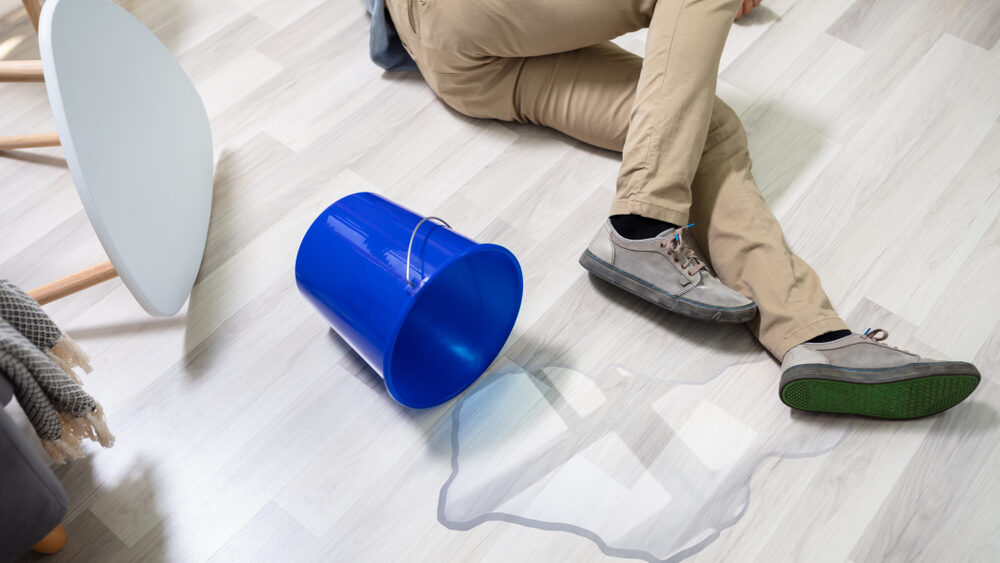 Escalators – Clothing, shoelaces, jewelry, or other accessories can become caught in an escalator causing a person to fall and sustain injury.
Nursing Homes – Elderly people often suffer serious injuries or death as a result of slip and fall accident. Adequate facility maintenance and mobility assistance could prevent many nursing home slip and fall accidents.
Restaurants – Employees or patrons can be injured in a slip and fall accident in a restaurant due to spills, slippery floors, and cluttered walkways.
Grocery stores – These stores also have slippery floors, as well as carts that can cause serious injuries, stocking carts that reduce employee visibility, and even outdoor areas that might cause slips and falls. If jars or liquids spill on the floor, customers could easily slip and fall.
Shopping malls – These have large gathering and walking areas where shoppers might slip and fall. Each store has a threshold that could be dangerous, and there are also playgrounds in some malls where children could be injured. A fountain might spray water on the ground, or kiosks might tip over due to heavy winds if outside.
Convenience and Retail Stores – These stores are similar in that their floors must be clean. When outside a store such as this, shoppers might slip in the parking lot, or they might fall on spilled gas, oil, or fluids on the tarmac.
Commercial stores: This is not the typical retail store that is clean and pristine every day. Shoppers in a commercial store are often greeted by concrete floors, dust, and items stored on high shelves. Customers can easily fall on slippery floors, trip over items left in aisles, or be struck by falling objects. Forklifts often ride around these stores, and ladders used to reach higher items could cause a fall.
Stairways – Broken steps, loose treads, and missing or broken handrails can contribute to slip and fall accidents on stairs. Cluttered and poorly lit stairways also create hazards for people on stairways.
Government buildings: Train platforms, bus terminals, and even airports must be kept in excellent condition. Public parks are subject to the same rules. The local government who manages the park and must keep every inch of the park in good condition. Everything from the playground to the walking path must be maintained or an injured guest can sue for damages.
Rental properties: These present the same issues because a rental owner must keep both the land and the home in good condition. While the tenant has renter's insurance and must not damage the property, the owner is responsible for repairing issues around the property and tending to the land. For example, a tenant who falls off a deck that should have been repaired can sue their landlord. If the landlord does not keep ice off the sidewalk or driveway, they can be sued because they own the property.
Private properties: Private property owners often believe they are not bound by the same rules as businesses, but this is not the case. Homeowners and owners of private properties must keep their land and buildings in good condition. For example, homeowners hosting a large party at their house can be sued when someone falls on broken or ill-maintained stairs.
What Causes Slip and Falls?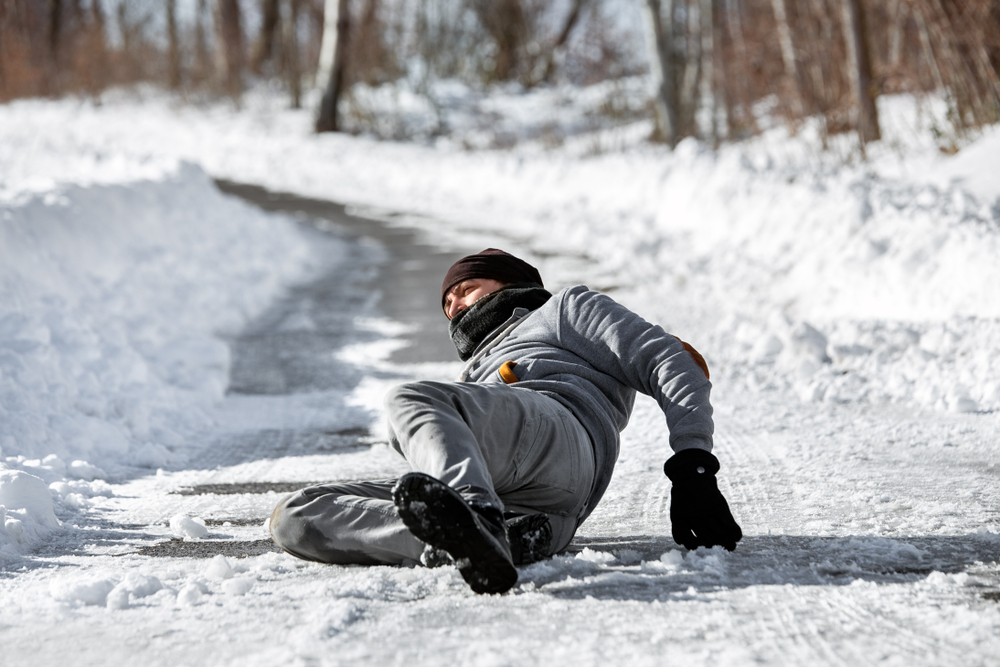 There are a variety of sources that can contribute to slip and fall accidents. While the victim may not realize what occurred at the time of the accident, a lawyer can uncover the real reason for the incident. Common causes include:
Ice and snow: Property owners must remove ice and snow to prevent injuries. When the property is not in good condition, ice and snow piles up, causes accidents, and gravely injures people walking through that space. Unkempt stairwells might include damaged handrails, stairs, or rubber footings. Some stairs might have loose carpeting, or the landings might be uneven.
Defective or damaged sidewalks: While falling on the sidewalk is dangerous, falling into the road is even more dangerous. If the pavement is damaged, pedestrians could fall into sinkholes, potholes, or even uncovered manholes.
Wet floors: These floors must be marked, but some spills simply do not get cleaned fast enough. If the floor is cleaned and no wet floor sign is left behind, the store could be held liable.
Knowing how these accidents occur helps most people avoid them. In spite of everyone's best efforts, an accident could still occur. Reach out to a lawyer for help to determine how the accident occurred, who is liable, and how to recover compensation.
Why is the Insurance Company Involved?
These cases require immediate legal attention so that property insurance can be assessed. In addition, photographs must be taken, and evidence must be gathered to preserve the scene of the accident and to prevent the spoliation of evidence, which is often integral to the case. Insurance companies can be quick to blame the victim for the accident when it was not their fault.
The insurance carrier will try to get victims to admit they played some part in the accident, and it is important that victims do not say anything without first reviewing the evidence with their lawyer. Insurance companies place calls, send letters, and even send adjusters or lawyers to meet the victim. Ignore their harassment and let a lawyer take care of everything.
Dangerous Machine Accident
What Should I Not Do After an Accident?
Victims and their families need to know how to handle themselves in a situation such as this. An injury or death in the family is devastating, and it causes tension. Because of this, there are family members or victims that might make some mistakes. Avoiding the following mistakes helps resolve the case quickly, allows the family's lawyer to do their best work, and prevents any delays or embarrassment. Victims and their families should not:
Speak to other lawyers: This makes the case more complicated as these lawyers represent other parties involved in the case. They might record these calls, take notes, and use what was said to invalidate the victim's claim. Lawyers could appear at any time to ask the victim to do a number of things that should not be done without a legal representative present.
Give recorded statements: This allows the insurance company to attempt to invalidate the victim's claim.
Threaten legal action: While the insurance company or defendant might settle under normal circumstances, they might take threats of a lawsuit seriously.
Take meetings without a lawyer present: Because the lawyer can speak on the victim's behalf, there is no need to talk during these meetings unless directed to do so by the lawyer.
Sign documents without a lawyer present: Some people get caught up in the wake of a protracted legal process, and they will sign anything because they are frustrated, tired, and want it all to end. Allowing a lawyer to review these documents can prevent a disaster for the victim.
What are Some Common Slip and Fall Injuries?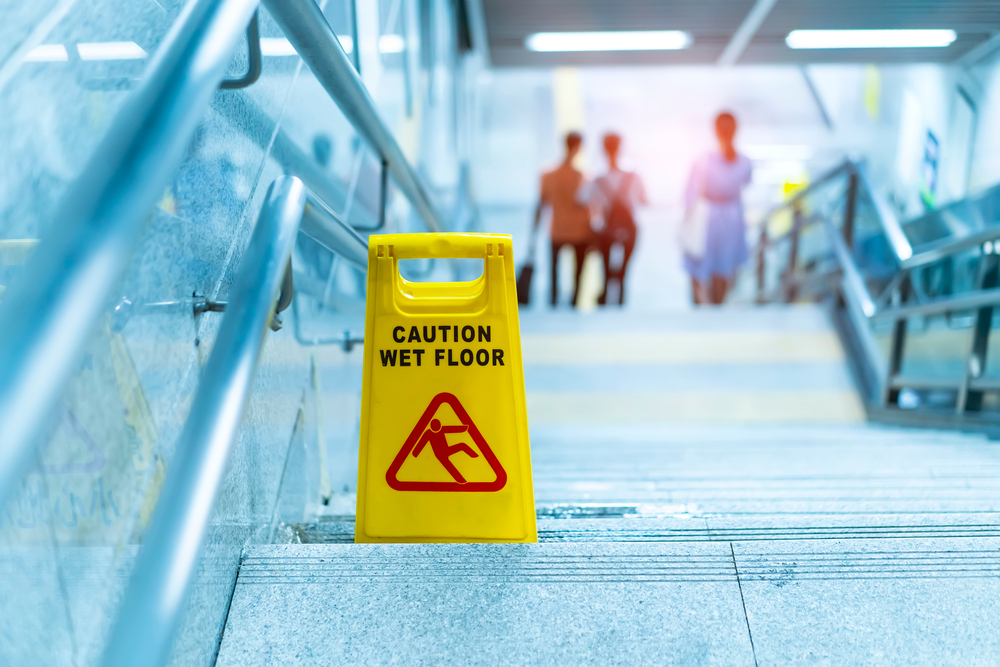 Slip and fall injuries can range from mild to severe. While a simple injury might heal in a few days, there is no way to know how severe the injuries could be if they are not taken seriously. Anyone who falls in public or on someone's should seek medical attention. The following accidents can produce a wide variety of personal injuries, which include:
Brain and head injuries: These injuries can cause physical or mental impairment, paralysis, headaches, memory loss, lack of focus, and/or death. Some victims believe they can recover on their own, but their symptoms could persist for months or even years. Seeking medical care ensures that the victim can prove they were hurt during the accident.
Neck and back injuries: These injuries can make it difficult to sleep, walk, or even concentrate. These accidents may result in injuries that require surgery or physical therapy. Unfortunately, victims who do not seek medical attention cannot claim they were hurt on someone's property.
Nerve damage: This often causes tingling or numbness in the extremities, and it should be taken seriously. Ligament strains or tears worsen over time if they are not treated, and joint injuries may lead to joint replacement in the future.
Other injuries: Burns, scars, disfigurement, and amputations cause even greater distress, impact the victim's self-esteem, and cause great strain on the family.
In each case, it is advised to hire a lawyer to look into why the accident occurred and who is responsible.
★★★★★
Rich DiTomaso was an excellent attorney. He was knowledgeable, thorough, and settled our case with a great result. We would highly recommend using this attorney.
★★★★★
Five stars absolutely deserved here. They handled every detail, from insurance companies to doctors and bills. I highly recommend Richard and his colleges.
★★★★★
Richard Ditomaso is an expert in his field. He goes above and beyond for his clients. If you're looking for a great lawyer, give this one a chance; you won't regret it. A+++
New Jersey Slip and Fall Accident Lawyers Cover The Different Types of Compensation You May be Able to Recover?
Victims deserve to be compensated for these accidents and injuries. Unfortunately, they may not know how they can be compensated. If an employee suffers a slip and fall injury at work, they should be covered by Workers' Compensation. Benefits may include:
Temporary partial disability
Temporary total disability
Permanent partial disability
Permanent total disability
Death benefits
If a slip and fall accident occurs outside the workplace, the property owner may be guilty of gross negligence. Damages often include:
Medical expenses: Costs related to the accident range from the ambulance ride to emergency care and future surgeries. Medical recovery costs, such as physical therapy and medications, are also factored into the value of a lawsuit. Victims might suffer from post-traumatic stress disorder (PTSD), which can require years of therapy.
Lost income and earning potential: If the victim continued working as normal, they could be expected to make a certain amount of money. If they have not made that money, they must be reimbursed. If someone has died, their earning potential for the rest of their life, along with their familial support, becomes part of the lawsuit.
Punitive damages: These damages cannot exceed $350,000 or five times the compensatory damages. Punitive damages are not a guarantee as they are paid in cases involving extreme malice and gross misconduct. Victims should speak to their lawyer about the value of the case before filing suit.
Burial costs: When someone dies in an accident, the family can recover burial costs and the cost of administering the deceased's estate through a wrongful death suit. Speak to a lawyer about who can represent the estate.
Why Do I Need a Lawyer?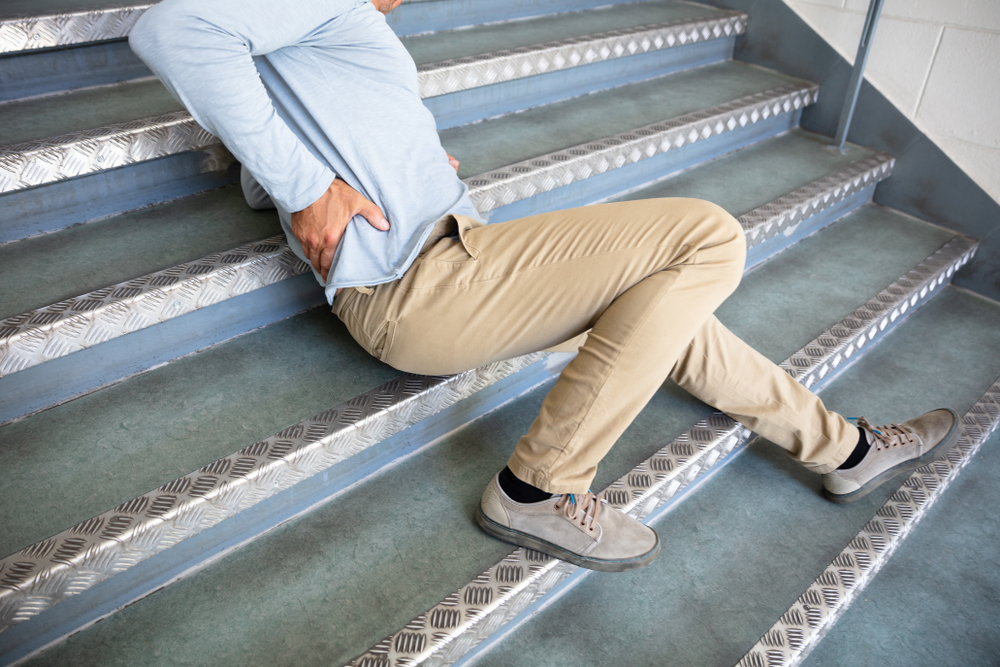 It is best to hire a lawyer soon after the accident to review all legal options for the victim. This is very important because the statute of limitations for both personal injury and wrongful death cases in New Jersey is two years. Lawyers can request documents from the employer, any third parties, and the insurance company. Lawyers know how to write letters to these entities and communicate their need for information. Lawyers file suit so that they can enter the discovery phase of the case, and they will continue to gather information, interview witnesses, and ensure that the victim has a compelling case.
After filing the lawsuit, the defendant or defendants have time to respond. Most of these cases can go to a settlement negotiation, or a judge might tell both parties to reach a settlement out of court. Because of this, a lawyer will sit down to negotiate a fair settlement. Each settlement offer is shared with the victim or their family, and they can choose to accept or deny the offer. If the offer is not fair to the victim, the case can go to court. A lawyer will argue the case, prepare the victim to testify, and continue arguing the case until a favorable outcome is reached. Additionally, they will appeal unfavorable decisions.
Other legal issues might arise when victims cannot receive disability assistance or experience legal problems because of their injury. A lawyer will continue to represent the family for many years after the accident, if necessary. For example, a lawyer might help the victim with medical exams and insurance company reviews.
New Jersey Slip and Fall Accident Lawyers at DiTomaso Law Advocate for Victims Injured in Slip and Fall Accidents
If you were injured in a slip and fall accident or another type of premises liability incident, you are not alone. Our experienced New Jersey slip and fall accident lawyers at DiTomaso Law will provide you with aggressive representation in an efficient and cost-effective manner. Call us today at 856-414-0010 or contact us online for a free consultation. Located in Philadelphia and Cherry Hill, New Jersey, we serve slip and fall victims throughout southeastern Pennsylvania and South Jersey, including Cherry Hill, Mt. Holly, Camden County, and Vineland.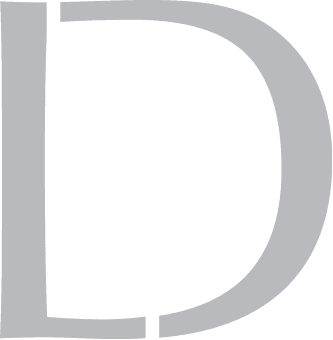 Get A 100% Free Case Evaluation
From A Top-Rated Personal Injury Attorney
$11.7M
Tractor-Trailer Accident
$1.5M
Drunk Driving Accident
$1.3M
Defective Machinery Accident
View All Case Results
"5 stars absolutely deserved here. If the need arises for legal representation again this is the only firm I will use. They handled every detail from insurance companies, doctors, and bills. I highly recommend Richard and his colleges and have to my friends and family."
See All Client Reviews